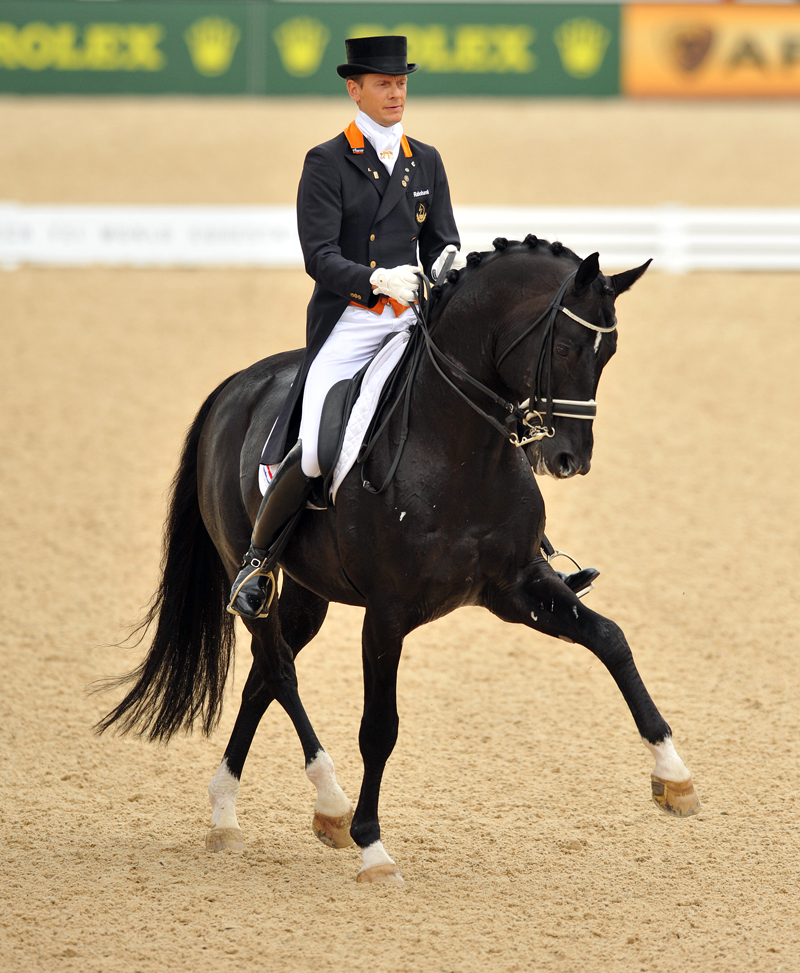 FEI World Equestrian Games gold medalist Totilas died Dec. 14 from colic. He was 20.
Totilas made history when he became the first horse to score above 90 percent in 2010. Sara Lieser Photo
Bred by Jan K. Schuil and Anna Schuil-Visser in the Netherlands, the Dutch Warmblood stallion (IPS Gribaldi—Lominka, Glendale) started his competitive career with Jiska van den Akker. He competed at the 2005 World Breeding Championships for Young Horses (Germany) as a 5-year-old and finished fourth.
After the championships, Cees Visser purchased the stallion, and Dutch Olympian Edward Gal took the ride in 2006. They began competing at the small tour in 2008 and won at Aachen (Germany) that year. In 2009, they earned team and individual gold at the FEI European Championships (Great Britain). With Gal, Totilas was nearly unbeatable in CDI Grand Prix classes, never finishing below second.
Totilas had a record-breaking year in 2010 when he and Gal became the first pair to score above 90 percent. They topped the FEI World Cup Final (the Netherlands) in March and swept the Alltech FEI World Equestrian Games (Kentucky) dressage competition with three gold medals later that year.
"When I came, I knew I could do it, but then it had to happen," Gal said after the WEG freestyle. "It was a lot of pressure, because I know I can make a mistake, and Totilas can make a mistake. It's really so fantastic to come here and win all the tests. I don't know what to say. It's just sinking in a little bit. That I did that together with Totilas is just amazing."
In October 2010, Visser announced that the stallion had been sold to German Olympian and breeder Paul Schockemohle. Ann-Kathrin Linsenhoff purchased part ownership.
German rider Matthias Rath took over the ride and competed in the 2011 FEI European Championships (the Netherlands), where they took team silver. Totilas was injured in 2012 and didn't return to competition for two years. In 2014, he won the Grand Prix and the Grand Prix Special at Aachen CDIO5* but was withdrawn before the freestyle due to another injury.
Totilas was selected for the German team for the 2015 FEI European Championships (Germany) and scored 75.97 percent in the Grand Prix for sixth, which helped the Germans take bronze. Rath withdrew from the remainder of the competition when the stallion demonstrated unevenness behind. An MRI revealed bone inflammation in his left hind hoof. On Aug. 18, Schockemöhle and Linsenhoff announced his retirement.
"How much the international dressage sport owes to this horse is almost impossible to put into words. Never before has a dressage horse moved and thrilled these masses—no matter if they're horse enthusiasts or not, young or old," said the owners in a joint statement. "His injury is going to heal at his home yard, and [it will be] given all the time it needs. This will also give him a gentle transition into his athletic retirement."
Rath still rode Totilas during the horse's retirement, and the stallion continued his breeding duties for five years.
"We will miss you so much and never forget you!" said Rath on his Instagram account.